Inspired by the letter B pendant worn by Queen Anne Boleyn in the famous portrait in the National Portrait Gallery in London, Seashore Design Studio offers a modern silver version accented with freshwater pearls, available by custom order in all 26 letters of the alphabet.
It began in 2007 when Ilana, fresh out of college and active in a historical re-enactment group, sculpted her first B pendant from polymer clay. Fast forward several years and she had made every letter of the alphabet and shipped to 30+ countries. But then, as it does, life changed and with the birth of her first child, Ilana made the difficult decision to put her then-business on hold.
In 2015, settling into life with a toddler, Ilana finally made the jump from assembly to fabrication and Seashore Design Studio was born. Her love of history and Anne Boleyn never far from her mind (and her collection of Anne-inspired swag keeping it there), she made the decision to bring the Boleyn style B pendant into the Seashore Design Studio line.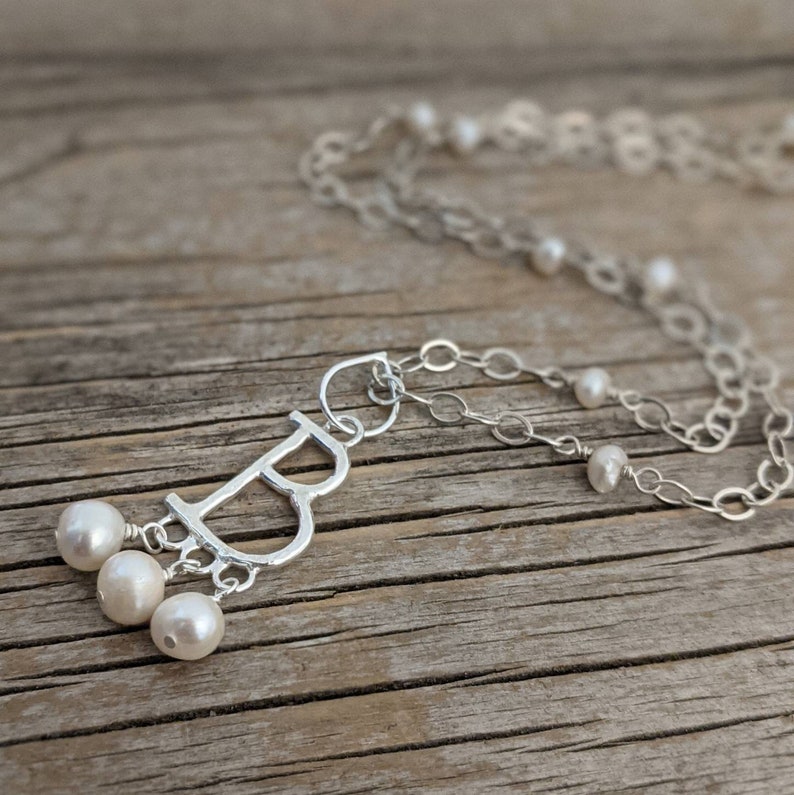 Seashore Design Studio's Boleyn B pendant is a streamlined version of the famous letter pendant, with freshwater pearls and a roomy bail to slip onto nearly any chain and even some beaded necklaces.

Made from fine silver or sterling silver – each has benefits and drawbacks, and the best medium is determined based on the shape and needs of each letter; yes, every letter of the alphabet is available by custom order!
A roomy teardrop bail allows the wearer to slip the Anne Boleyn style custom initial pendant onto nearly any chain, and even beaded necklaces up to about 6mm, offering a wide variety of wearing options. The pendant is finished with round white freshwater pearls measuring roughly 6mm. The resulting look mimics that of Queen Anne in her famous portrait, with a sleek, modern twist.
Each pendant is hand cut, shaped, and assembled so while similar in shape and dimension, no two are ever truly the same. As such, some variety from those pictured may occur. Each pendant is lovingly handcrafted and then hammered to give an overall texture, and tumbled for durability and high shine.
Wear your custom Anne Boleyn style letter pendant on your favorite chain, or choose a special one to match.

Seashore Design Studio is known for sturdy, hand assembled chains that are significantly stronger than most costume jewelry to stand up to demanding wear. While the roomy teardrop bail will slip onto more chains and some beaded and pearl necklaces (up to about 6mm), Seashore Design Studio also offers a stylish chain featuring strong sterling silver cable chain studded with small white freshwater pearls and finished with an attractive sterling silver oval clasp to pair with your custom Boleyn pendant. These chains are available by custom order in your choice of length.
Enjoy Seashore Design Studio custom initial pendants and chains in silver, but be sure to use a silver polishing cloth to keep your metal sparkling, as most commercial silver cleaning products will strip the natural coating of the freshwater pearls.

Order your custom Anne Boleyn inspired pendant or necklace here.